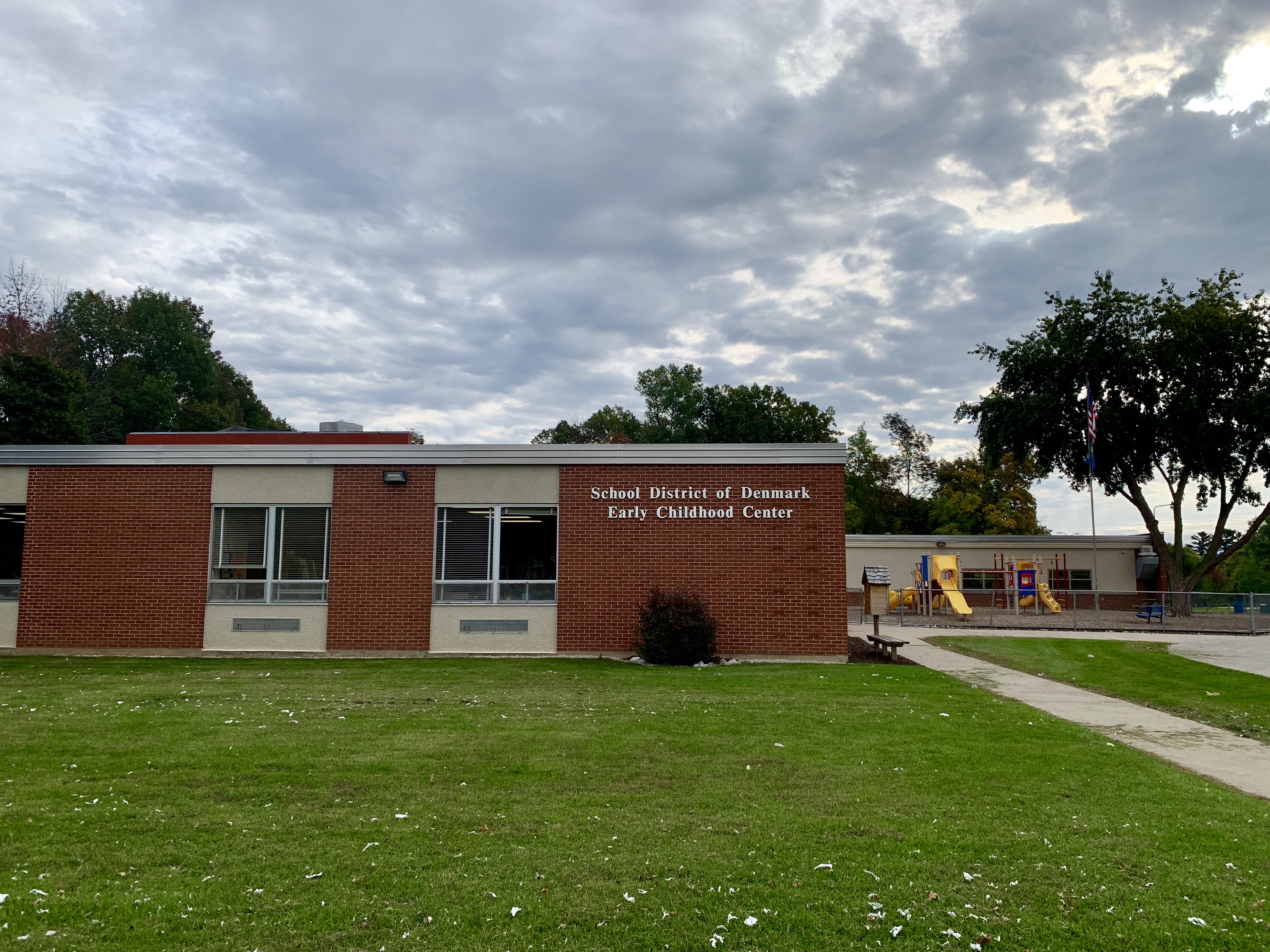 The Denmark Early Childhood Center
The Denmark ECC is home to about 200 students and staffed with state certified teachers and qualified paraprofessionals. The Denmark School District has been committed to providing high quality early childhood education since the program began in 1999, one of the first districts in the state of Wisconsin to provide early childhood learning services. The curriculum is designed to be developmentally appropriate with a focus on social, emotional, and physical development, early numeracy, along with early literacy and language experiences fostered through active, exploratory learning activities. Parents can rest easy knowing our phenomenal staff has their child's best interests in mind as we nurture the academic, cognitive, social, emotional, and behavioral needs of all children. We embrace our families and community as a part of our community and look forward to actively engaging all families in their child's education.
This school year we are fortunate to host three four-year-old kindergarten classrooms, all having AM and PM sessions, as well as six full-day kindergarten classes. Additionally, we are lucky to have Early Childhood Special Education through Brown County and the Before and After School Program at the ECC to provide care for all of our students in the Denmark School District. ECC students receive the regular curriculum (driven by the Wisconsin Model Early Learning and Wisconsin State Standards), as well as classes such as Gym, Music, Art, Guidance, Library, and Spanish, as well as tailored learning around social and emotional skills such as friendship, kindness, problem-solving, managing one's feelings, etc.
At the Denmark Early Childhood Center, academic and social and emotional achievement are core values that drive our daily instruction. Staff at the ECC are specialized in the field of early childhood and take a collaborative approach to educating the whole child while differentiating instruction to meet the needs of all students. We also integrate technology in to our daily instruction using computers, iPads, and Smart Boards. Additionally several support staff, specializing in Reading Instruction, Speech and Language, Special Education, English Language Learning, etc. are on site to provide additional support for those in need. This year, we are focused on strengthening our collaborative efforts to increasing our students' academic, social, emotional, and behavioral success!

We also interweave respect, responsibility, and safety throughout our daily instruction. At the ECC, we want all students to Be Respectful, Be Responsible, and Be Safe in order to have a positive impact while at school, home, and in the community. We are proud to implement positive and proactive behavior strategies, establish school-wide and classroom expectations, and provide individual students with the opportunities necessary to develop the intrinsic motivation to thrive.
The Early Childhood Center is open for school operations from 7:30 AM to 3:30 PM. Breakfast and hot lunch programs are available to Early Childhood Center students. Please don't hesitate to contact our office at (920) 863-4175 to arrange a visit of our school.
Lance Grishaber, Principal
(920) 863-4176
grishaberl@denmark.k12.wi.us
Lori Knoflicek, Administrative Assistant
(920) 863-4175
knoflicl@denmark.k12.wi.us
Physical Address:
150 N. Wall St
Denmark, WI, 54208
Mailing Address:
450 N. Wall St
Denmark, WI, 54208
4K AM - 7:45 am - 10:55 am
Doors open at 7:40 am

4K PM -11:50 am - 3:00 pm
Doors open at 11:45 am

5K - 7:45 am - 3:00 pm
Doors open at 7:40 am
When arriving for school, please enter through our main entrance. Our rear entrance is used only for the Before and After School Program.
June: 7:30am - 3:00pm
July: By Appointment
August: 7:30am - 3:00pm